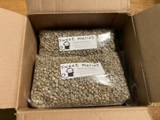 Getting Some Beans
by brian @ 14:33:44 - [perma-link]

I ordered 14lb of green beans from Sweet Maria's. The package arrived today, sooner than I was expecting. Almost a year ago, I ordered 17 lb, and didn't quite run out, so I should be good for about another year!

I'll roast one of these new ones today, instead of the last of last year's Espresso Monkey Blend. I can do a comparison one day with this new stuff.

5lb Espresso Monkey, 5lb Rawandan Honey Process Kanyege, and 2 lb each of Yemen Al Qafr Hawari and Mexico Communidad de Coatepec.